Christmas is TOMORROW! I just had this one recipe left that I HAD to get to you before the holiday! Perfect for Christmas, but also something you'll want to make all winter long: Gingerbread Bundt Cake!

This Gingerbread Bundt Cake is dark, sticky, and deeply spiced. It's not at all like the sweet gingerbread that is commercially produced. I served this cake alongside some vanilla ice cream--amazing!
This recipe is easy--a saucepan and a few bowls. NO mixer required. You mix the batter up, put the bundt pan in the oven, and--about an hour later--you're done! No additional steps! If you choose to, you can dust this baby with some powdered sugar just before serving. That's it! AND if you have leftovers, this cake is even better on days 2 and 3!
If you're interested in using this particular bundt pan, you can find it [here].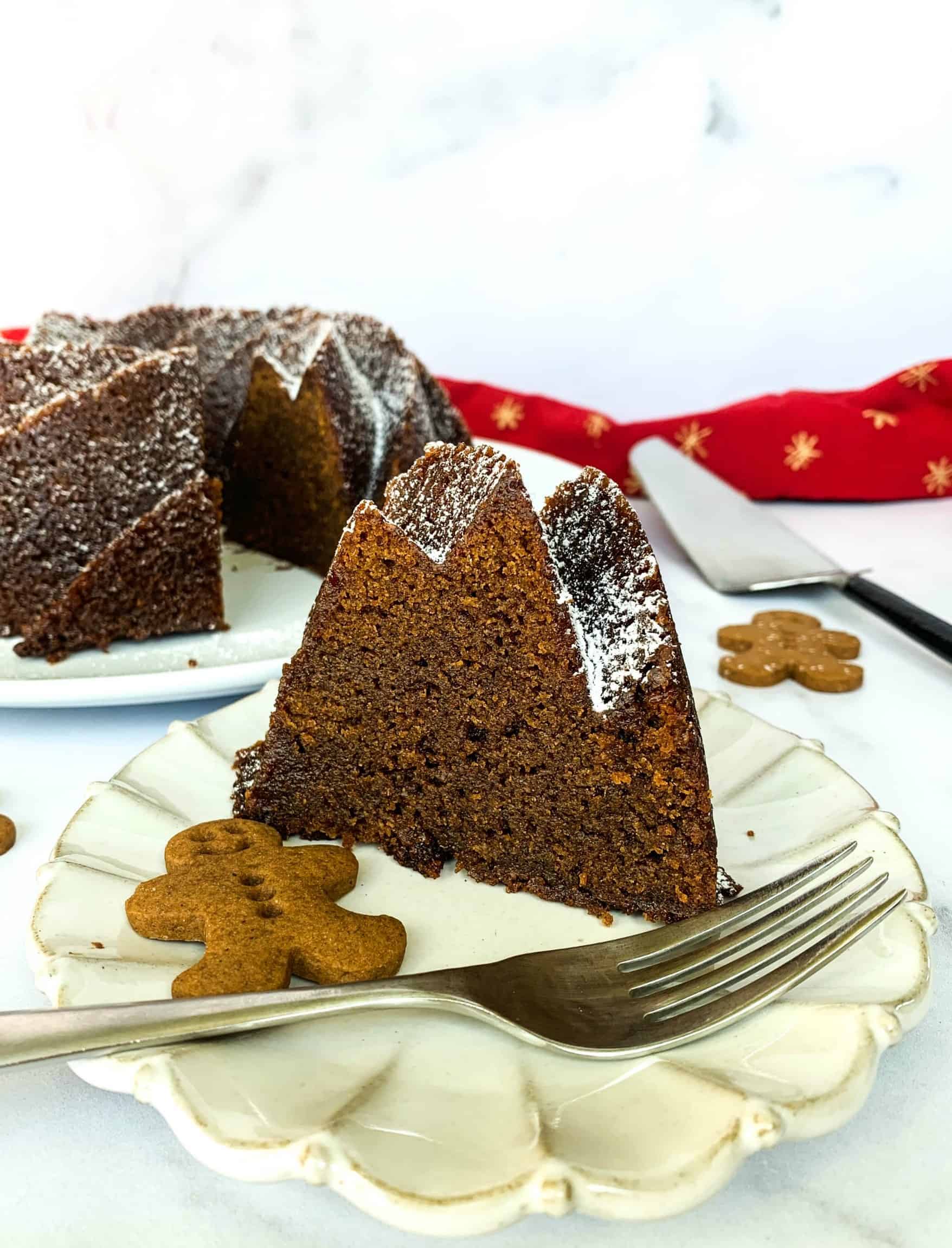 So, not many words today. Who has time to read words on Christmas Eve? Go--go be with your friends and your family. Go enjoy all that the holiday has to bring! And, if you have an extra 20 minutes, maybe make this cake. You won't regret it!!
Wishing a very, very happy holiday to you and yours, no matter what you celebrate. I hope the season reminds you what a beautiful world this can be! <3
Other posts you may like:
Recipe from Gramercy Tavern (link here).
Gingerbread Bundt Cake
This isn't your average gingerbread cake! Dark, sticky, and deeply spiced, this old-fashioned Gingerbread Bundt Cake is perfect for Christmas--and all winter long!
Instructions
In a small saucepan, combine the beer and molasses and bring to a boil. Remove from the heat and add baking soda, whisking to combine. Allow mixture to cool to room temperature.

Preheat oven to 350° F. Generously grease a bundt pan (see note) and set aside.

In a large bowl, combine the dry ingredients (flour, baking powder, and spices). Set aside.

In a medium bowl, combine the sugars, eggs, and vegetable oil. Whisk to combine. Once molasses mixture is cool, add to the egg mixture and whisk until well combined.

Add the dry ingredients to the wet and whisk until just incorporated. Pour into the prepared bundt pan.

Bake 50-60 minutes, or until a toothpick inserted into the center comes out with just a few moist crumbs on it. Allow the cake to cool in the pan for 5-10 minutes, then turn out onto a wire rack to cool completely. Once cake has cooled, dust with powdered sugar, if desired. Goes great with vanilla ice cream! 🙂

Enjoy!
Notes
Note on pan

: If you're interested in using this particular bundt pan, you can find it [

here

].
Nutrition information is provided as a courtesy and is only an estimate.
Tried this recipe?
I'd love to hear all about it! Leave a review below, then snap a pic and tag me on Instagram!
This post contains affiliate links.