Now that the holidays have passed, it's on to Winter baking, which for me always includes dates. This Date Bread has all the warm, cozy vibes that I'm looking for! The sweet dates, warm spices, and bright orange flavors will make this one a favorite! And...is there really anything better than homemade bread?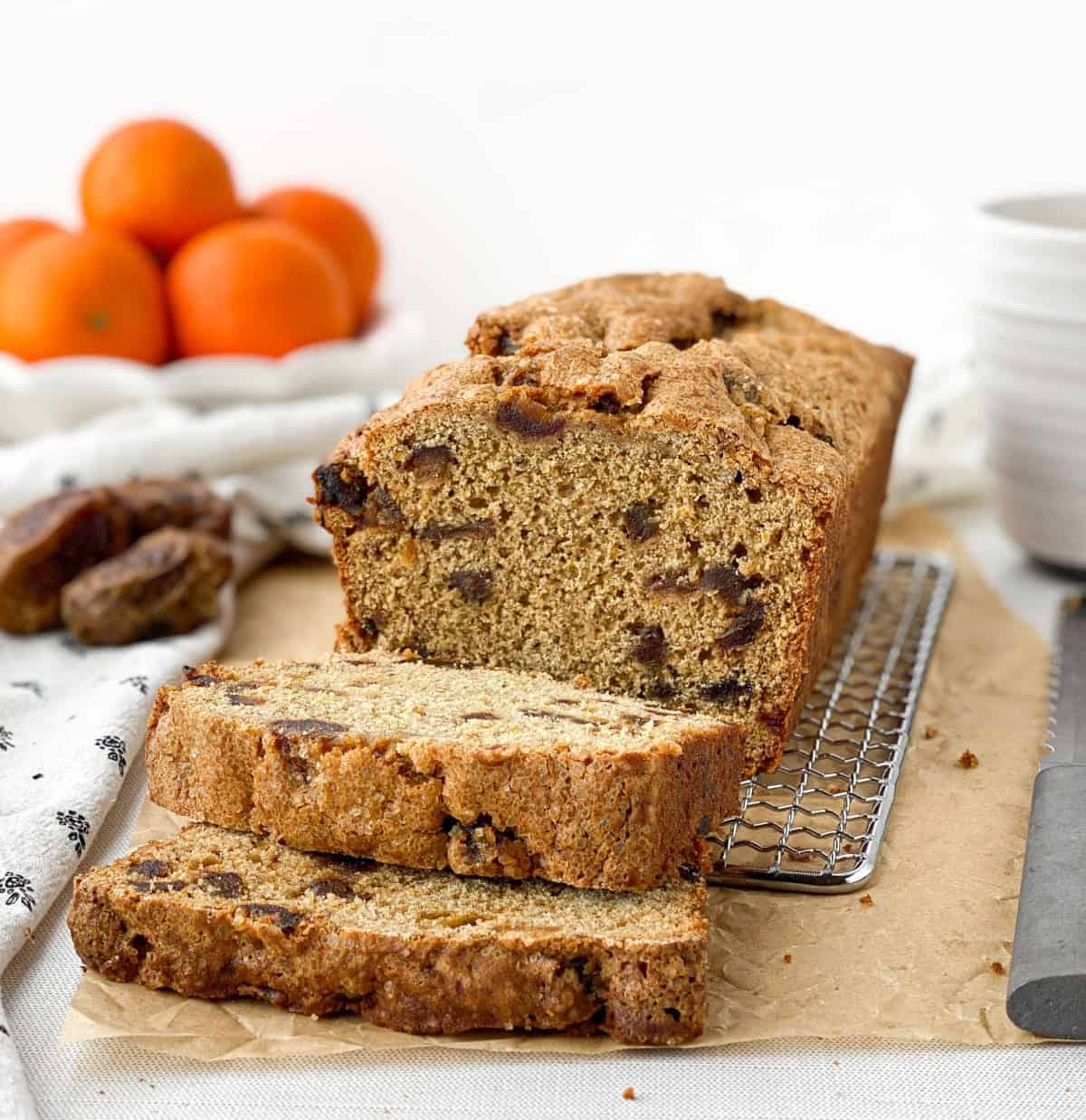 This post may contain affiliate links, and as an Amazon Associate I earn from qualifying purchases. I'll never link to anything I don't use and love! Click here for full disclosure and privacy policy.
This Date Bread is so moist (sorry not sorry) and flavorful! The dates, brown sugar, spices, and orange zest marry so well, and make the bread *taste* special. I added a sprinkle of raw sugar on top for crunch and a little more sweetness. My kiddos eat the sugared top first, while I save it for last. 🙂
If you enjoy this recipe, check out the posts for my Date Pinwheel Cookies, Blackberry Lemon Bread, and Date Apple Pie!
What Dates are Best for Baking?
There are two types of dates that you'll typically see at the grocery store: Medjool and Deglet Noor.
Medjool dates are probably the most common. They're big, soft, and very sweet. They're also very sticky and can be a bit of a pain to chop!
Deglet Noor dates are drier than medjools, but they still chewy and have a lovely flavor. They're a little easier to chop, since they're less sticky.
Either of these types of dates is excellent for baking, though you may want to weigh their differences in sweetness and moisture before choosing for a particular recipe. I reached for medjool dates for my Date Bread because I wanted their additional moisture to help ensure the bread didn't dry out. Though medjool dates are prone to losing their shape and getting squishy, they held up in the bread nicely, even after their soak in triple sec!
If you're a fan of dates (like me!) you'll also want to check out my recipes for Date Swirl Cookies, Apple Date Pie, Caramel Ginger Date Cake, and Chocolate Hazelnut Cheesecake (which features a date caramel)!
Ingredients for Date Bread
Dates - For texture and sweetness.
Flour - Provides structure for the bread. All-purpose flour is what you want to reach for!
Baking Powder & Soda - Provide leavening for the bread.
Spices - The ground cinnamon, nutmeg, and cloves lend a warmness and flavor to the bread.
Salt - Helps to balance and enhance the flavors in the bread.
Unsalted butter - For moisture and richness; unsalted so that you control the amount of salt.
Egg - One large egg, to provide structure, additional leavening, and a little richness.
Orange liqueur - For flavor and moisture. (See FAQ's if you'd rather not use alcohol!)
Oranges - you'll use both the zest and the juice in this recipe!
Brown Sugar - For sweetness and a warm molasses flavor.
Raw Sugar - This one is optional, but I love the crunch and sweetness it lends to the top of the bread!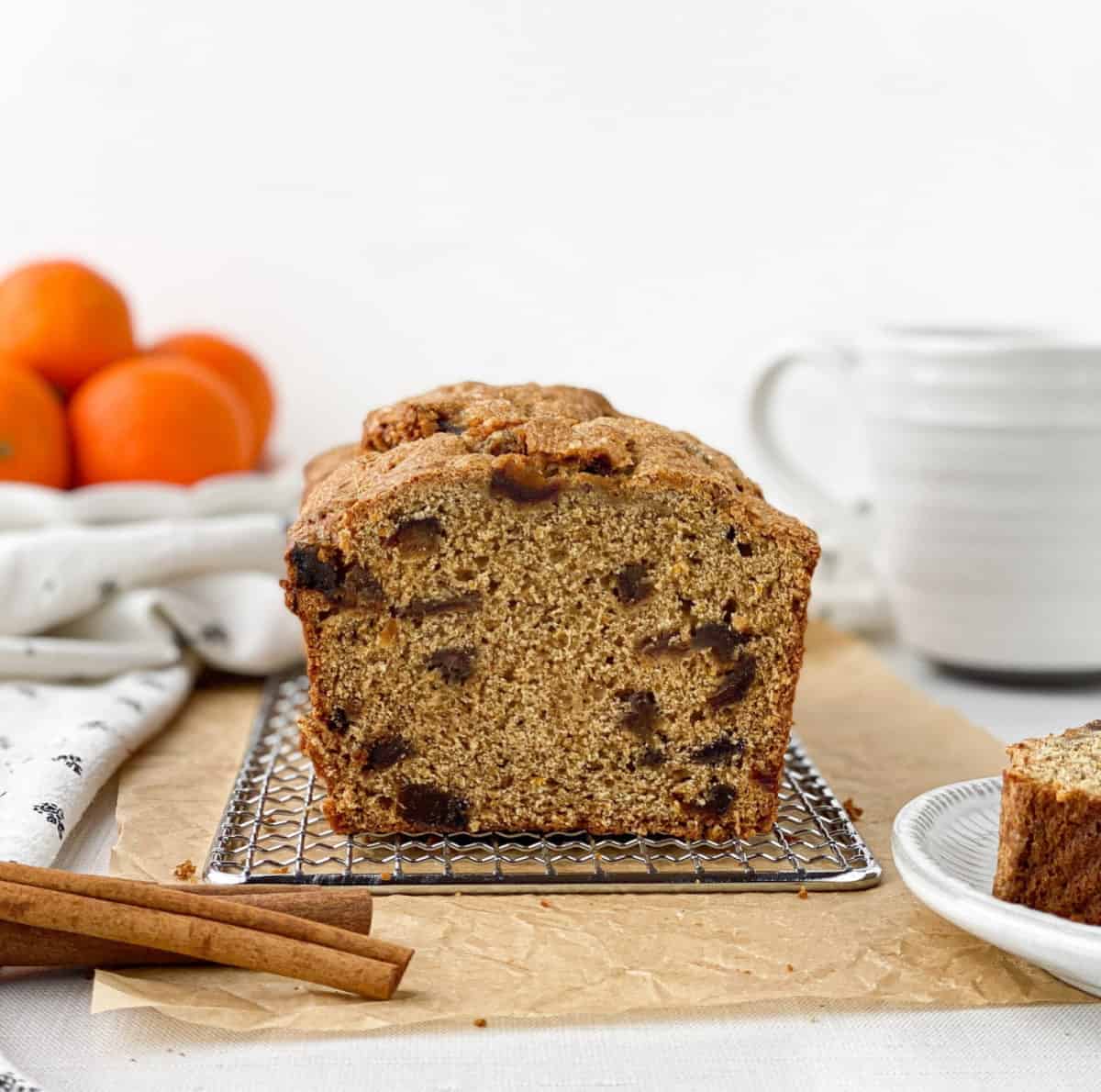 How to Make Homemade Date Bread
This bread is quick and easy to put together! The lengthiest part of the process is waiting for the dates to soak in the orange liqueur for awhile (30 minutes). If you do this step first, you can prep the rest of the recipe while they soak.
Like most quick breads, this Date Bread is made by the creaming method:
Combine the dry ingredients in a bowl and set aside.
Cream the butter and sugar until light and fluffy, then add the egg, vanilla extract, and orange zest.
Add half the dry ingredients, followed by the orange juice, then the remaining dry ingredients.
Add the date and orange liqueur mixture, and mix until just incorporated.
Sign up!
Never miss a recipe! Sign up as a Live to Sweet VIP and receive a weekly newsletter with recipes and tips--no spam ever! Sign up here
FAQ
What kind of dates should I use?
Both medjool and deglet noor dates would work beautifully in this recipe. Check out my section discussing these types of dates above!
What orange liqueur should I use?
I used Triple Sec in my Date Bread, but you can use whatever orange liqueur you prefer or have on-hand. Grand Mariner would work well, as would an orange-flavored vodka.
What if I don't want to use alcohol or don't have it on-hand?
If you'd prefer not to use/don't have the orange liqueur, substitute with an equal measure of orange juice.
Can I add nuts?
Of course! My kiddos are nut-haters, so I leave them out of most things. If you'd like to add nuts to your Date Bread, stir in ¾ cup of coarsely chopped pecans or walnuts when you add the dates.
Does Date Bread store well?
This bread is one of those recipes that is even more flavorful the next day after the flavors have more time to marry! Make sure the bread is wrapped well so it doesn't dry out, and it will keep for several days out on the counter. Alternatively, you can wrap the bread and store in the freezer for a month or more.
What can I put on my bread?
I like to eat this Date Bread all on its own with a cup of coffee. That said, it would be lovely paired with a honey butter or a sweetened orange cream cheese!
I hope you'll make this bread and enjoy it as much as I do! The flavors are bright and warm--just perfect on a cold Winter day! <3
Other Recipes You May Like:
Recipe adapted from Ina Garten (link here).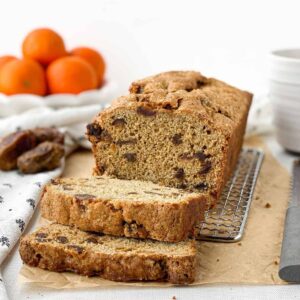 Moist Date Bread
This Date Bread is moist and delicious with dates, spices, and loads of orange zest!
Instructions
Combine the dates and orange liqueur in a small bowl. Set aside for 30 minutes, stirring occasionally.

Preheat the oven to 350° F. Grease a 8.5"x 4.5"x 4.5" loaf pan and set aside.

In a medium bowl, combine the dry ingredients (flour, baking powder, baking soda, spices, and salt). Set aside.

In the bowl of a stand mixer, combine butter and bown sugar. Beat until light and fluffy. Scrape down the sides of the bowl.

Add the egg, vanilla extract, and orange zest and mix to combine. Scrape down the sides of the bowl again, if necessary.

With the mixer running on low, add half the dry ingredients, followed by the orange juice, then the remaining dry ingredients. Mix until just incorporated, then fold in the date/orange liqueur mixture.

Pour the batter into the prepared pan and sprinkle the top with raw sugar, if desired. Bake until a toothpick inserted in the center comes out clean, about 1 hour. Cool bread in the pan for about 10 minutes, then turn out onto a wire rack to cool completely.

Enjoy!
Notes
Note on dates

: I used medjool dates, which are usually available at my local grocery store, especially around the holidays. You can use whatever type of date you prefer. If you can't find them where you live, you can find them online

here

.
Nutrition information is provided as a courtesy and is only an estimate.
Tried this recipe?
I'd love to hear all about it! Leave a review below, then snap a pic and tag me on Instagram!