The bounty of summer berries is always inspiring me for new ways to use them! I saw some gorgeous raspberries, and of course my brain immediately started pairing them with other delicious flavors. Pistachios, honey, vanilla...the resulting creating was these delicious Raspberry Tartlets with Pistachio Crust!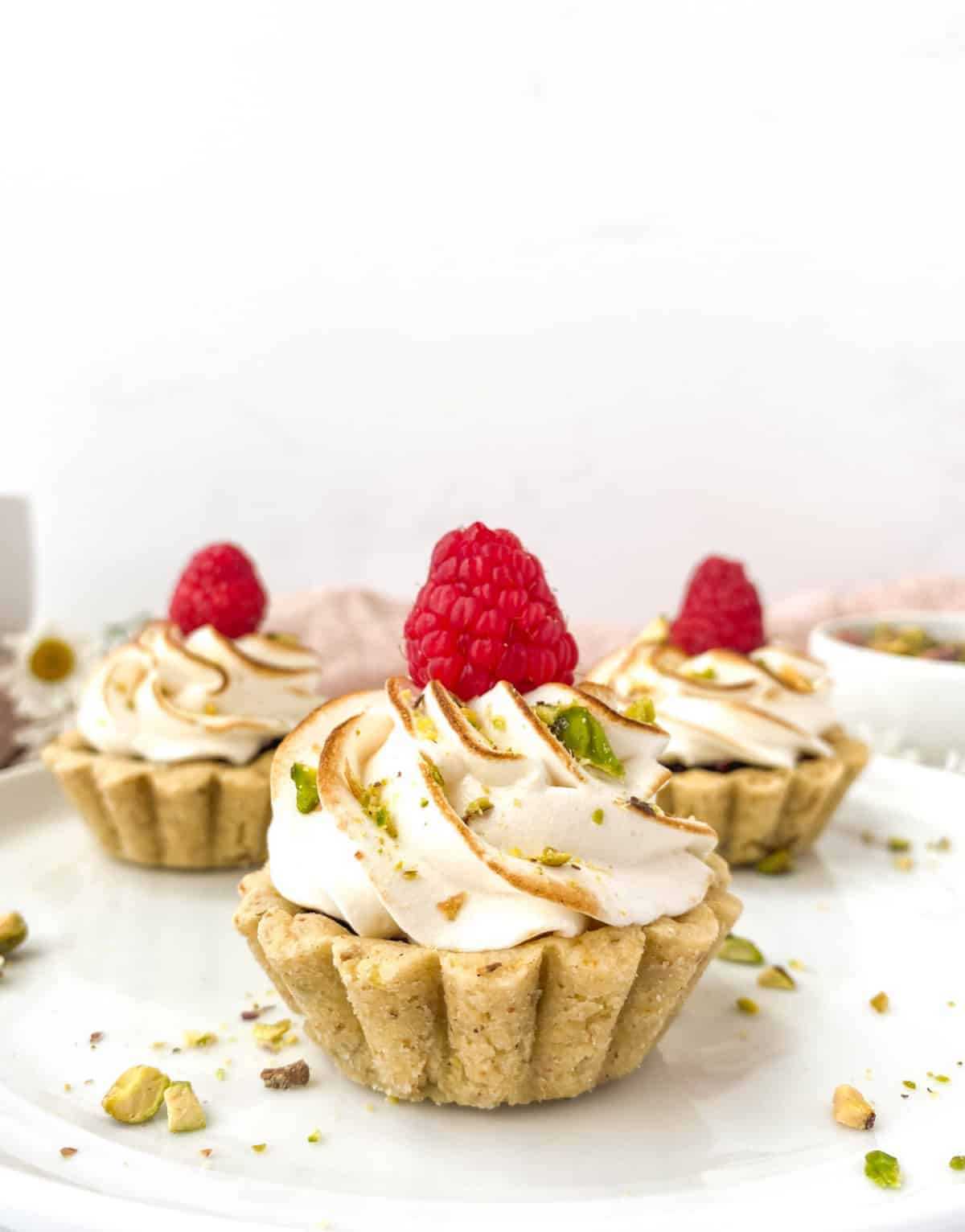 This post may contain affiliate links, and as an Amazon Associate I earn from qualifying purchases. I'll never link to anything I don't use and love! Click here for full disclosure and privacy policy.
These Raspberry Tartlets have a pistachio tart crust filled with a honey-raspberry jam topped with toasted honey meringue! These mini tarts are such a fabulous summer dessert!
If you enjoy these tartlets, you may also like my recipes for my Blueberry Curd Tart, Apricot Tart, and Raspberry and White Chocolate Loaf Cake!
Raspberry Tartlet Ingredients
This recipe is almost entirely ingredients you're sure to find at your local grocery store, with two possible exceptions:
Having the Right Equipment
Making the Pistachio Tart Crust
This pastry comes together easily and is very forgiving. That means that you don't have to worry about tears in your pastry--just patch them up with some extra dough and you're good to go. You can gather and re-roll scraps, just know that the more times you do this, the tougher the crust will be.
Easy Raspberry Jam
Now that we've covered equipment and ingredients, we can move on to making the tartlets! The honey-raspberry jam couldn't be easier. You could even choose to use frozen raspberries if you'd like. Everything goes in a saucepan, gets cooked down until thick, then it gels as it cools. No pectin, no fuss. AND no refined sugar, if that's something you're concerned about!
Toasted Honey Meringue
Warming the meringue ingredients over a double boiler ensures that the sugar dissolves and that the resulting meringue is safe! After warming, the mixture gets beaten into a cloud of fluffy, white meringue! I just love the pairing of the sweet-tart raspberry jam with the sweet toasted honey meringue!
I just love these little gems, and I hope that you do, too! Even if you're not interested in spending the time on teeny tiny tartlets (which I totally get!), the flavors and textures in this recipe are summer perfection!
Other Posts You May Like: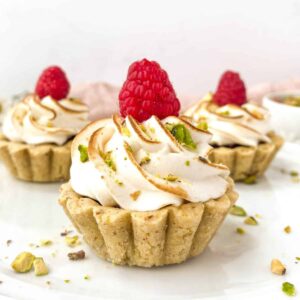 Raspberry Tartlets with Pistachio Crust
These Raspberry Pistachio Tartlets have a pistachio tart crust filled with homemade honey-raspberry jam, topped with toasted honey meringue!
Ingredients
Vanilla Pistacho Pastry:
2½

cups

cake flour

(see note)

¼

cup

ground pistachios

(I used unsalted)

pinch

salt

½

cup

unsalted butter, softened

(1 stick)

⅔

cup

sugar

1

egg

1

teaspoon

vanilla bean paste

(see note)
Garnish (if desired):
raspberries

chopped pistachios
Instructions
For Jam:
Combine raspberries, honey, lemon juice, and salt in a large saucepan. Warm over medium-high heat, stirring often, until the mixture boils. Once boiling, reduce to a simmer and cook until thickened, about 20 minutes.

Remove the jam from the heat and stir in vanilla bean paste (see note). Allow jam to cool while you prepare the rest of the recipe. Jam can be made ahead of time and stored in the refrigerator.
For Crusts:
In a small bowl combine cake flour, ground pistachios, and salt. Stir to combine. Set aside.

In the bowl of a stand mixer, beat butter and sugar until light and fluffy. Add egg and vanilla bean paste (see note) and beat to combine.

With the mixer on low speed, gradually add the flour mixture. Mix until just combined.

Turn dough out onto a lightly floured surface and knead slightly to form a disc. Wrap the disc in plastic and freeze 20 minutes. Grease 24 teeny 2.5" tartlet pans (see note) and set aside.

After chilling, roll the dough out on a lightly floured surface to about ⅛" thick. Line each of the pans with the pastry, taking care not to stretch the dough as you do so. (Pastry scraps may be gathered and re-rolled as needed.) Place crusts on a baking sheet and freeze 10 minutes.

Preheat oven to 350° F. Leaving the tartlets on the baking sheet, bake 10-15 minutes. Pastry will appear dry and very slightly browned. Allow crusts to cool completely.
For Meringue:
In a large heatproof bowl, combine egg whites, honey, sugar, and salt. Whisk to combine.

Place the bowl over a saucepan of simmering water, taking care that the water doesn't touch the bowl. Whisking constantly, warm the mixture to 160° F, about 8-10 minutes.

Transfer the mixture to the bowl of a stand mixer and whip using the whisk attachment until it reaches medium-stiff peaks. Add vanilla bean paste (see note) and beat to incorporate.
For Assembly:
Fill the cooled tartlets with the raspberry jam. I used about 2 tablespoons of jam per tartlet. Spoon or pipe meringue on top of each tartlet. Toast the meringue, if desired (see note). Garnish as desired; I topped mine each with a raspberry and chopped pistachios.

Enjoy!
Notes
Note on vanilla bean paste
: It's no secret that I LOVE this ingredient! Easier/cheaper than buying whole beans and tastier than extract (or at least I think so)! If you don't have vanilla bean paste, you can find it
here
. If you prefer to substitute, you can use an equal measure of vanilla extract.
Note on cake flour

: If you don't see it locally, you can find it

here

. You can substitute the cake flour with all-purpose flour if that's all you have on-hand, but the crust won't be as tender!
Note on tartlet pans
: I used 24 (ridiculously tiny) 2.5" tartlet pans (like these
here
). You may end up with more jam and pastry than you need, but you could easily make a 9" round tart with this same recipe, just increase the chill time and bake time on the tart (25-30 minutes). 
Note on toasting meringue
: I use a kitchen torch to toast my meringue. If you don't have a torch, you can put the tartlets under the broiler, just don't take your eyes off them for a second! I prefer the torch, since it gives more control over the toasting. My torch is old, so I don't even know what kind it is, but this one (link
here
) has great reviews.
Nutrition information is provided as a courtesy and is only an estimate.
Tried this recipe?
I'd love to hear all about it! Leave a review below, then snap a pic and tag me on Instagram!