If you follow the blog you know this is true: I loooove vanilla. I always say that anyone who describes vanilla as a boring flavor is doing it wrong! To add amazing vanilla flavor to my bakes, I love using Homemade Vanilla Sugar!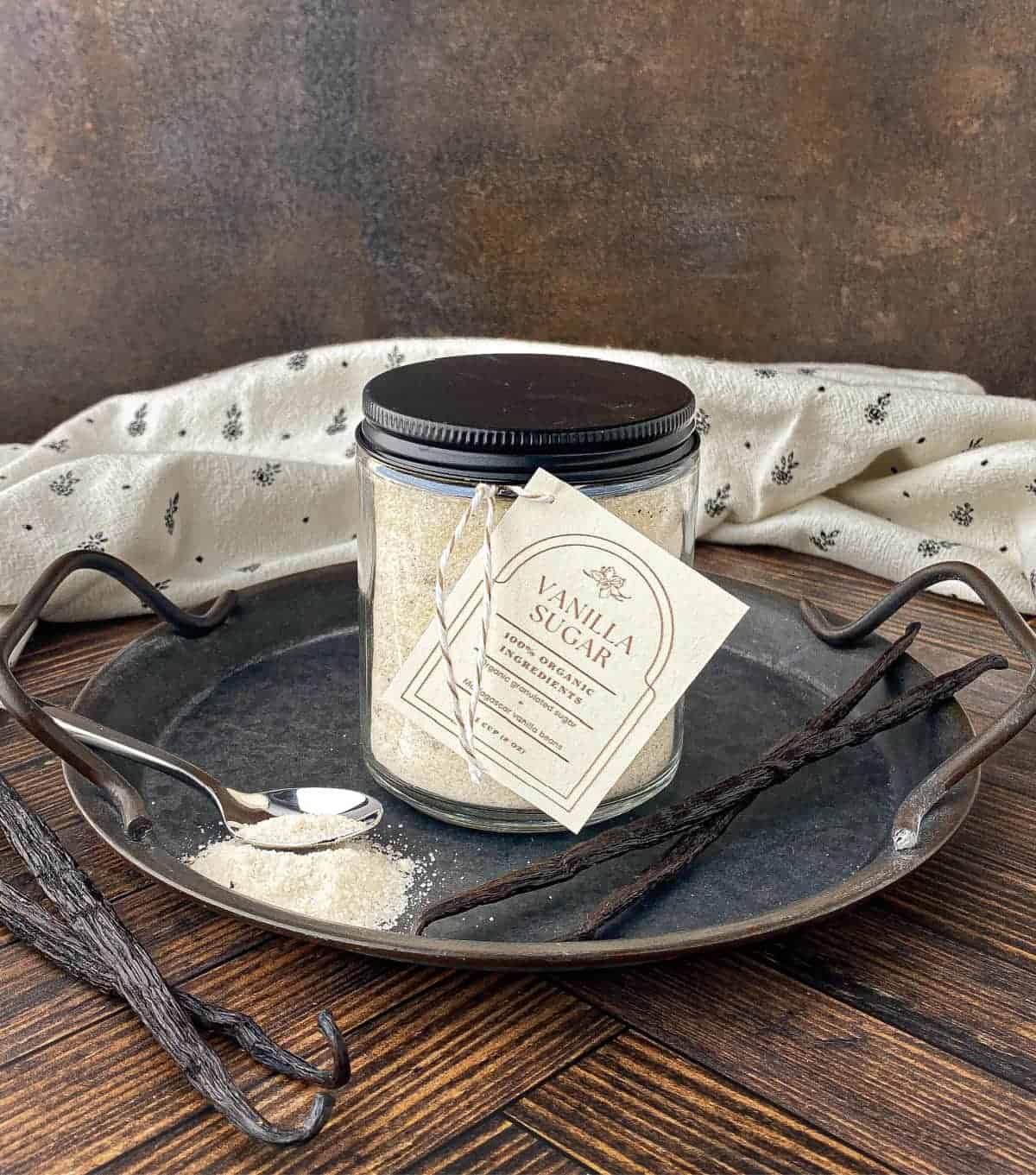 This post may contain affiliate links, and as an Amazon Associate I earn from qualifying purchases. I'll never link to anything I don't use and love! Click here for full disclosure and privacy policy.
This Homemade Vanilla Sugar combines the sweet, rich, warm flavor of vanilla beans with granulated sugar for the ultimate flavor enhancer! Add it to baked goods, flavor your tea, use it to rim cocktail glasses, and more!
If you enjoy this recipe, check out the posts for my Strawberry Sugar, Lavender Sugar, and Blueberry Sugar!
Jump to:
What is Vanilla Sugar?
Vanilla Sugar is regular granulated sugar that has been infused with vanilla. Vanilla Sugar has a sweet, warm, slightly floral flavor that will make you want to add it to everything!
There are methods to make vanilla sugar with extract and paste, but I haven't found that either work as well as using whole vanilla beans! You can also purchase vanilla sugar online, but it's so easy to make at home! I would also argue that Homemade Vanilla Sugar has *much* better flavor than anything commercially produced (especially if it doesn't use real vanilla)!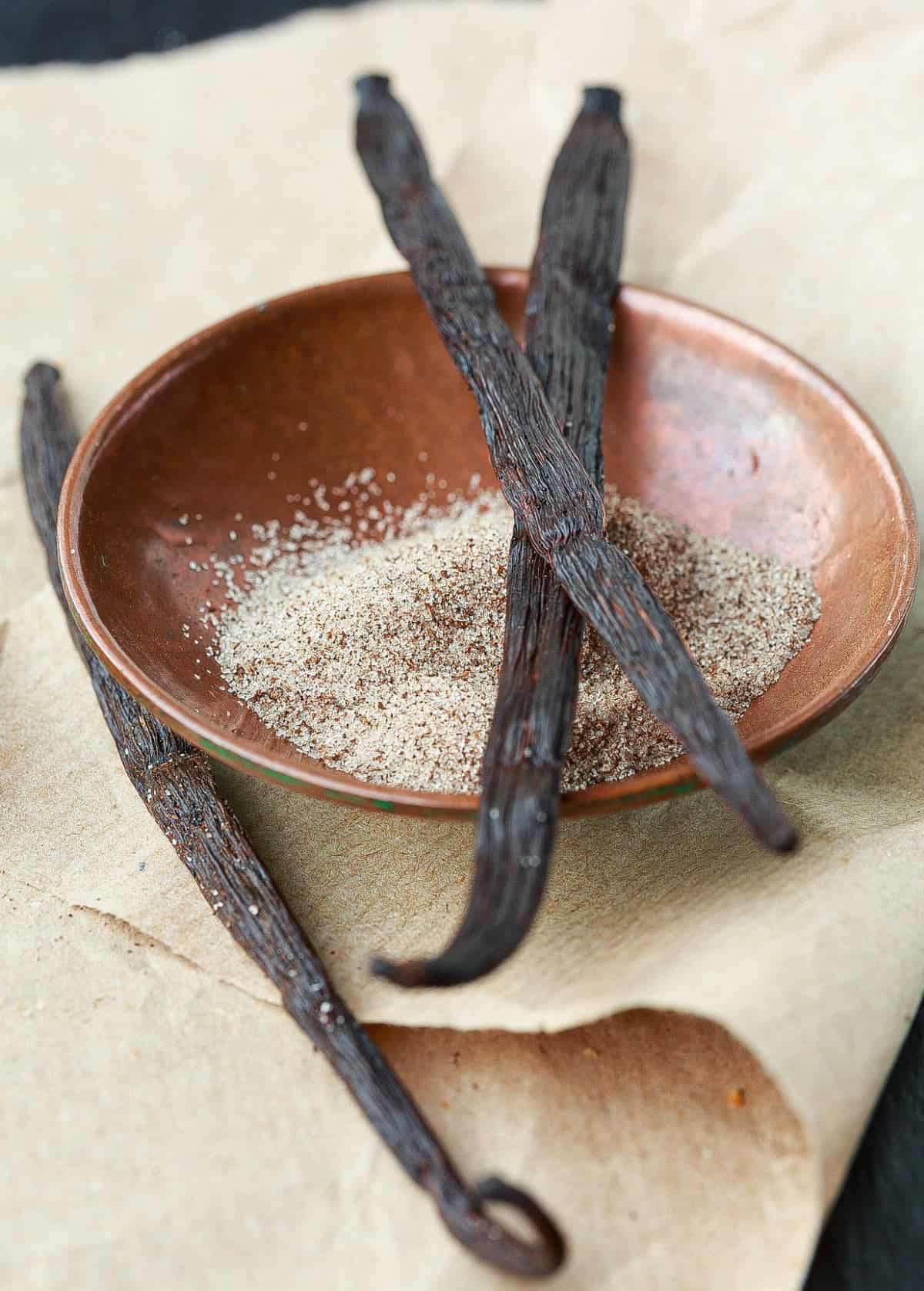 How to Choose Vanilla Beans
When you're purchasing vanilla beans, here are a few helpful hints as to what to look for: variety, grade, color, aroma, sustainability, and fair trade.
Vanilla Bean Varieties
Different varieties of vanilla beans have slightly different flavors depending on where they're sourced. There are over 150 types of vanilla worldwide, but the most common varieties of vanilla beans are Tahitian, Mexican, and Madagascar.
Tahitian Vanilla has the strongest aroma of the three varieties with notes of cherry-chocolate, caramel, and licorice. Tahitian vanilla is most used for non-food products like candles and oils because of it's strong aroma, but is amazing for vanilla sugar, too.
Mexican Vanilla is bold, dark, sweet, and woody with tones of smoke. It's spicy-sweet flavor is similar to clove or nutmeg.
Madagascar Vanilla (also called Bourbon vanilla) has the strongest aroma and a rich, creamy vanilla flavor, but it also tends to be the most expensive.
Vanilla Bean Grade
Vanilla beans are available in two grades:
Grade A beans are soft, shiny, and contain more moisture. They're also the more expensive of the two grades. They're easier to split to scrape out the seeds, but we don't need to do that for vanilla sugar.
Grade B beans have lower moisture content, and tend to be stiff and dry. Though they're not as pretty as Grade A beans, Grade B beans are still delicious! They're also less expensive than Grade A.
Either grade is suitable for making vanilla sugar, but Grade A beans may clump your sugar because of their higher moisture content. Because of this and the difference in price, I'd go with Grade B beans if you can find them. If you use Grade A, you just may have to stir your sugar every so often to break up the clumps.
Sign up!
Never miss a recipe! Sign up as a Live to Sweet VIP and receive a weekly newsletter with recipes and tips--no spam ever! Sign up here
Vanilla Bean Color & Aroma
Your vanilla beans should be dark brown to nearly black in color. They will also smell fantastic! If they don't smell like vanilla, they're not going to make very good vanilla sugar.
If you can't see/smell the beans in person, make sure you're buying from a reputable source.
Sustainability & Fair Trade
So you guys know I'm an environmental scientist by training, right? This will feel a bit link I'm on a soapbox, but bear with me...
I always buy from companies that grow sustainably and use fair trade practices. Not using chemical pesticides, and maintaining soil fertility and biodiversity (among other issues) will ensure that vanilla continues to be available in the future.
Supporting the communities that make vanilla bean crops possible empowers women and ensures that child and slave labor aren't used. It may be a few extra dollars for fair trade beans, but imagine what that extra income means to those families! *steps off soapbox*
Native Vanilla is a fantastic brand (*not* an ad!), and I purchased my beans online from them here.
Ingredients
Only TWO ingredients! See the recipe card (below) for ingredient measurements.
Sugar - For sweetness. Regular granulated sugar is best, as the molasses in brown sugar may overpower the flavor of the vanilla. If you're using a coarse sugar, process the sugar to be about the size of regular granulated sugar for best flavor, so it has more surface area to be infused with the vanilla.
Vanilla Bean(s) - For flavor. I chose Grade B Tahitian vanilla beans. See my "How to Choose Vanilla Beans" section (above) for details on the best beans for making vanilla sugar!
Instructions
This recipe can easily be scaled up or down depending on how much Vanilla Sugar you want. Hint: It's easier to make several smaller batches than to try to make a large amount all at once!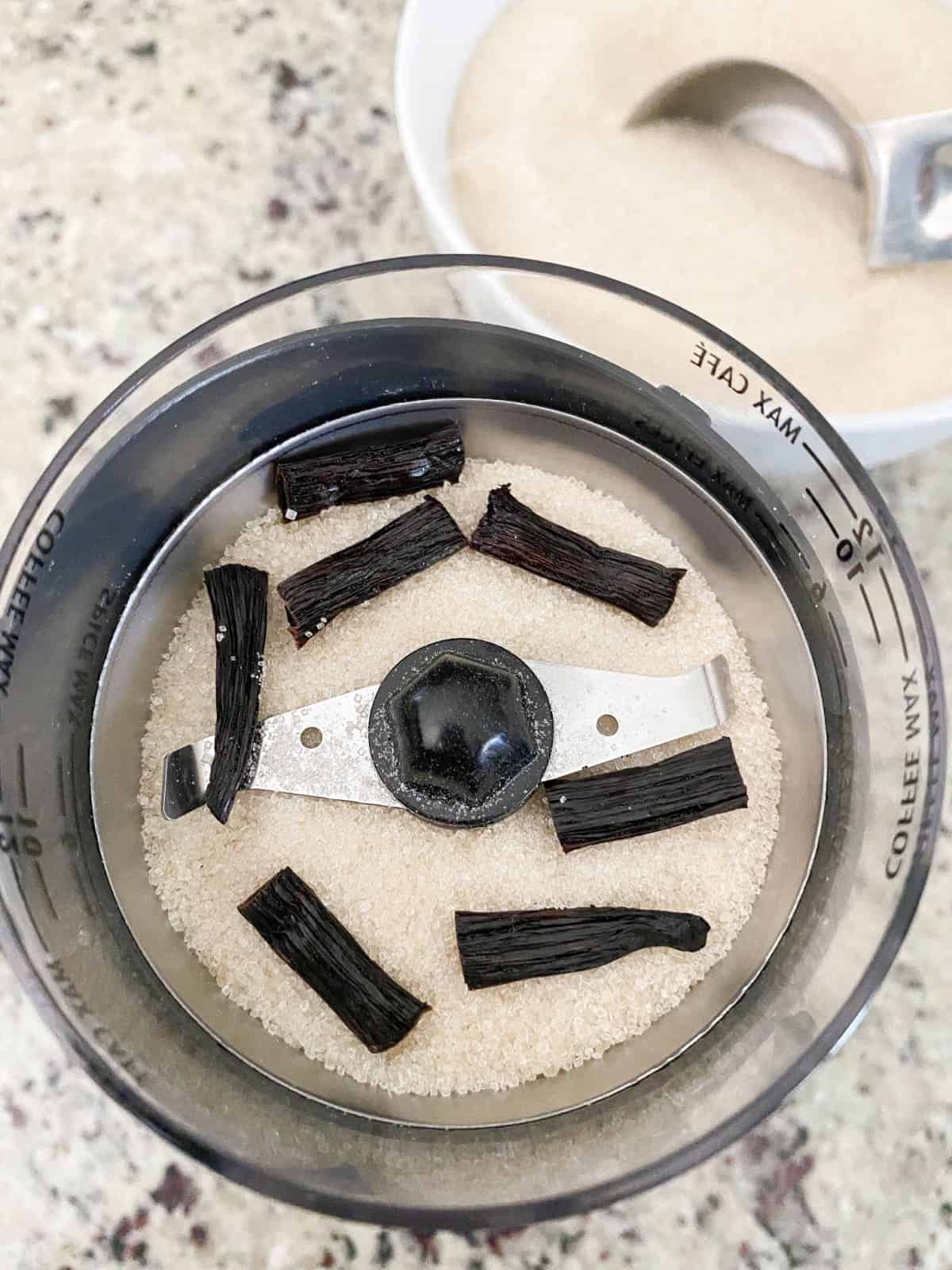 Pour a small amount of sugar and chopped vanilla bean(s) into a coffee grinder or food processor. Process until the vanilla bean is finely ground.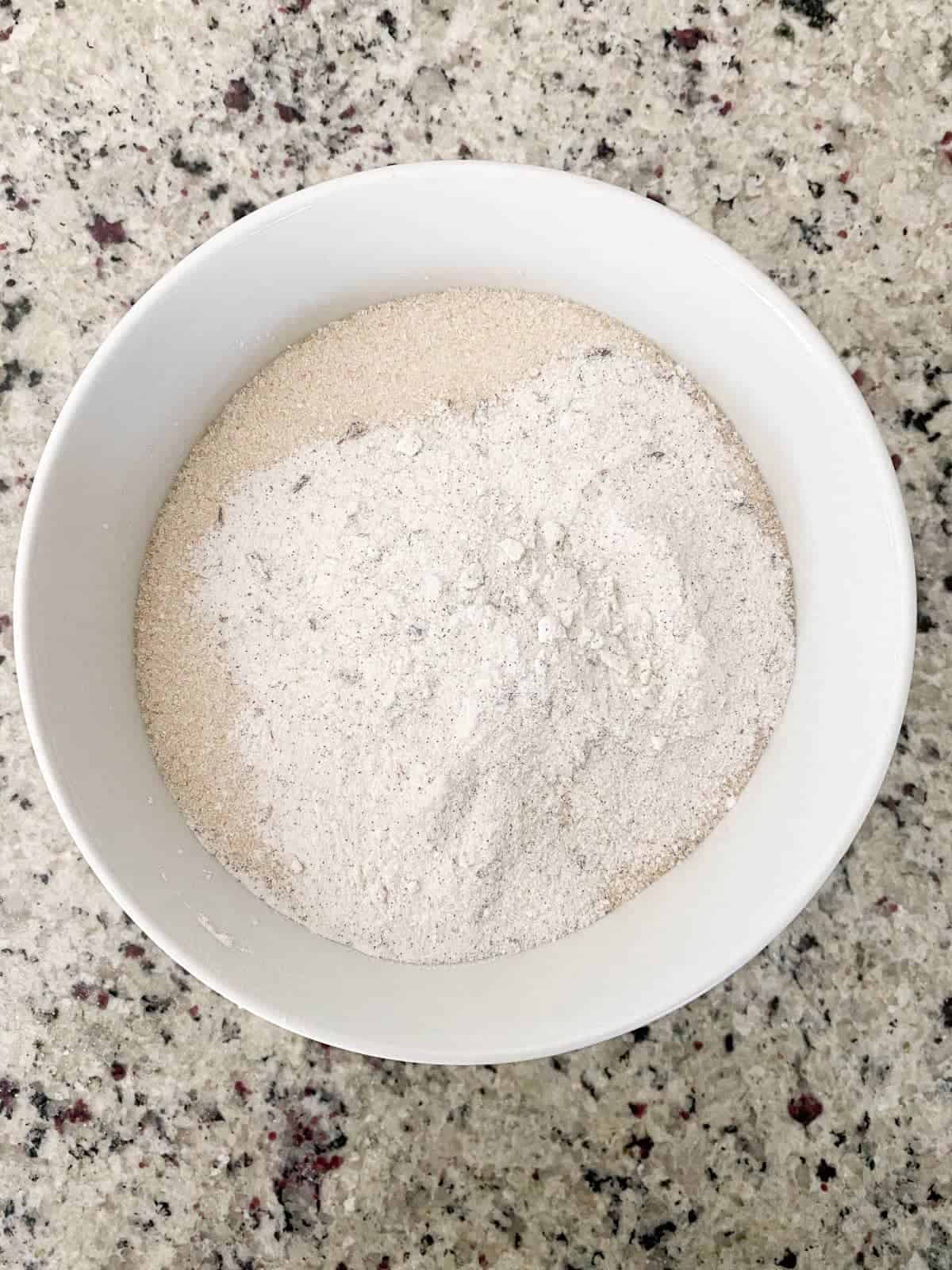 Pour sugar/vanilla bean mixture into a bowl with the remaining sugar and whisk to combine.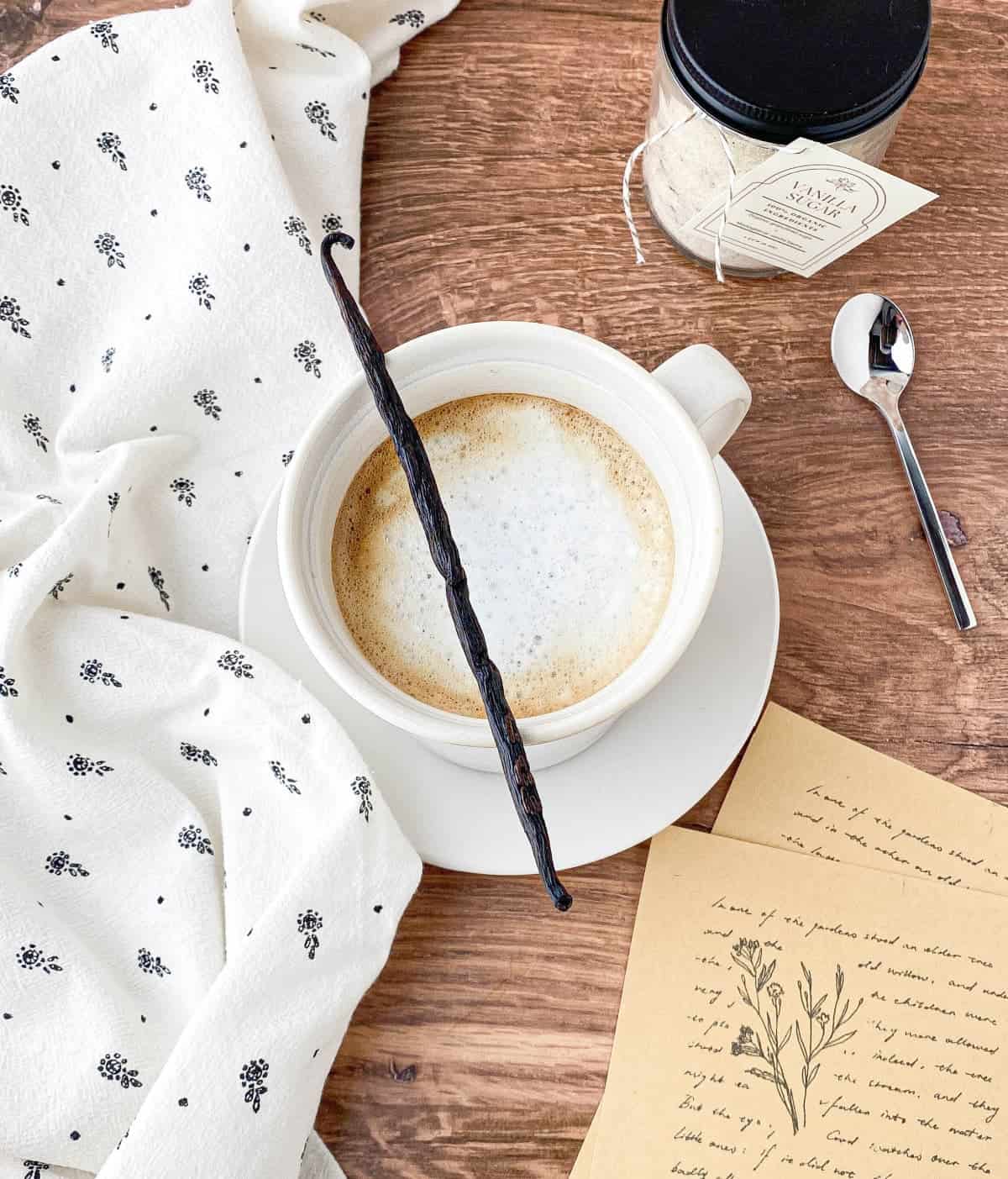 How to Use Vanilla Sugar
So now you know how to make Vanilla Sugar, but how do you use it? Here are some ideas for you:
In baked goods - Substitute plain sugar with vanilla sugar in bakes. You can make a 1:1 substitution in any recipe that calls for sugar. Cakes, cookies, pies...you name it! It's best used in recipes that don't have another flavor component that will overpower the flavor of the vanilla.
In whipped cream or frosting - The flavor of vanilla is a lovely addition to whipped cream or your favorite buttercream!
In coffee or tea- Make your coffee or tea even more flavorful! Just lovely in a vanilla latte, or sprinkled into homemade hot cocoa, too.
To rim cocktail glasses - Vanilla Sugar doesn't work as well to sweeten cold beverages, as the sugar doesn't readily dissolve. However, it's fantastic on the rim of a cocktail glass!
Use as a garnish - Sprinkle a little on top of cake or cookies or anything that could use a some warm vanilla flavor.
Sprinkle over your breakfast - A fantastic way to fancy up fresh fruit, oatmeal, or yogurt!
Makes a fantastic gift - In just a few minutes you can have jars of flavored sugar for gifting to family and friends! Makes a fantastic hostess gift, shower or wedding favor, or special surprise for a friend or neighbor!
Equipment
Coffee Grinder - A coffee ginder is my preferred equipment for this recipe, as the bowl is quite small. I bought one with a removable, dishwasher-safe bowl so that it's easy to clean between uses!
Food Processor - If you don't have a coffee grinder, a food processor is your next best bet. A small/mini food processor will work best. If you have a larger food processor, definitely use the smallest bowl insert that you have.
Glass Jar(s) - I store my Vanilla Sugar in glass jars. Small, decorative jars are perfect for gifting!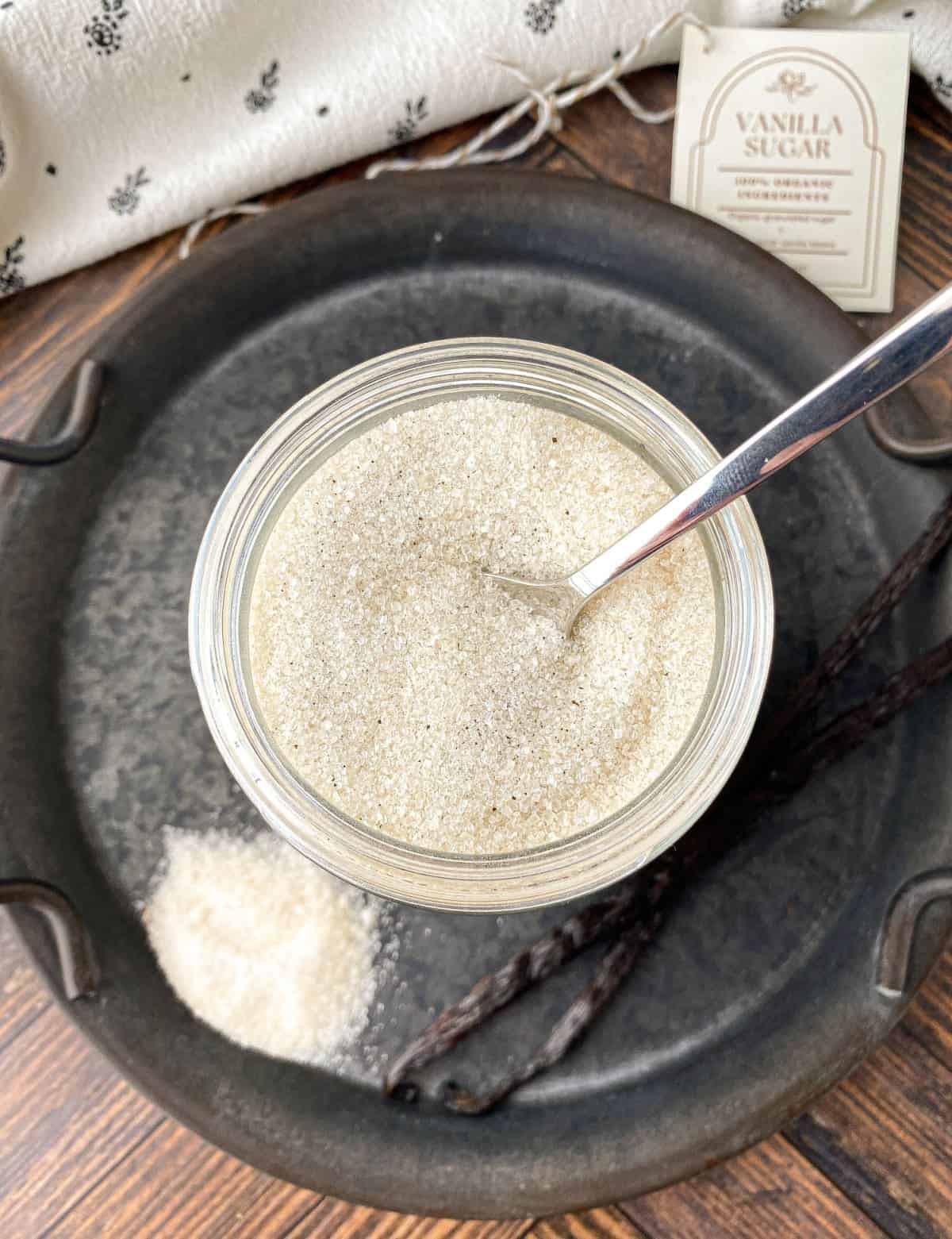 Storage
Vanilla Sugar can be stored in an airtight container at room temperature for up to six months. If kept cool and dry, it could keep for much longer. The longer the sugar sits, the more flavorful it will be!
Recipes to Try with Vanilla Sugar
There are a few recipes here on the blog that already call for vanilla sugar if you want to check them out: my Strawberry Jam Cookies, Vanilla Blackberry Pies, and Vanilla Plum Tart!
FAQ
Can I make other flavored sugars?
Absolutely! You can get imaginative with flavored sugars with flavors from fruits to spices to herbs. Check out my recipes for Strawberry Sugar and Lavender Sugar!
Other Recipes You May Like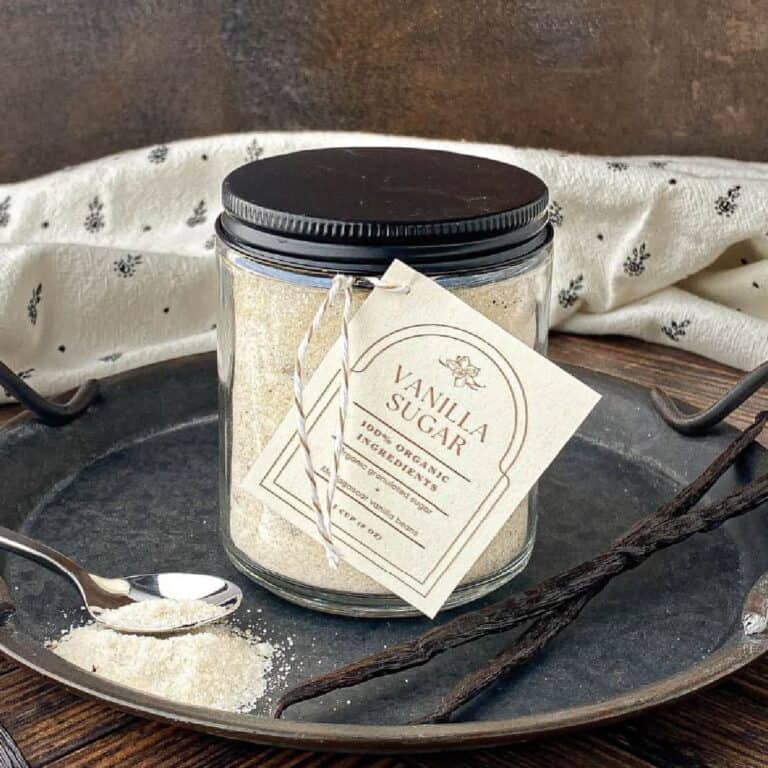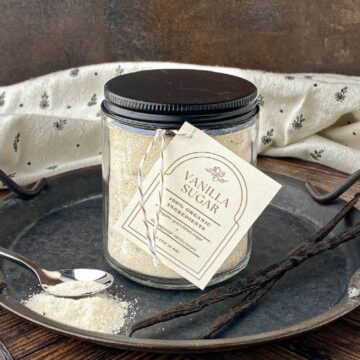 Homemade Vanilla Sugar
This Homemade Vanilla Sugar combines the sweet, rich, warm flavor of vanilla beans with granulated sugar for the ultimate flavor enhancer! Add it to baked goods, flavor your tea, use it to rim cocktail glasses, and more!
Instructions
Pour a few tablespoons sugar and the vanilla bean (chopped to fit) into a coffee grinder or food processor. (If using a food processor, you may have to use ¼ cup sugar to get the vanilla bean to process finely, as it has a larger bowl.)

Process the sugar and vanilla bean until the vanilla bean is ground finely. This process nearly "powders" the sugar, which is why you don't want to process all the sugar at once.

Pour the sugar/vanilla mixture into a bowl with the remaining sugar and whisk to combine. Sugar can be used immediately, and will keep in an airtight container at room temperature for up to six months.

Enjoy!
Notes
Note on vanilla beans:  Any vanilla beans you have/whatever variety you prefer is fine for making vanilla sugar. I chose Tahitian Grade B beans. See the post for more info on choosing vanilla beans!
Nutrition information is provided as a courtesy and is only an estimate.
Tried this recipe?
I'd love to hear all about it! Leave a review below, then snap a pic and tag me on Instagram!