Sometimes I'm struck with something. For instance: Chocolate Peanut Butter Angel Food Cake. The idea (craving?) pops into my head. Surely this must be a thing. After searching for recipes and coming up short, I was perplexed. How could this not be a thing??
(*Spoiler Alert*) It's a thing now.
Angel food cake isn't hard to make from scratch. Really. With a little patience and a little love, you can have homemade angel food cake at your house whenever it suits your fancy. At my house, we routinely switch between homemade angel food cakes and pound cakes to top with berries and fresh whipped cream all summer long. But this....this is a different animal.
Angel food cake can seem finicky, but it really just has a few rules that you need to follow in order to have it turn out: you need to use cake flour, you need to make sure that you whip the egg whites sufficiently, and you need to be gentle when folding in the dry ingredients. Peanut butter is too heavy to consider adding to the batter of an angel food cake. Just adding the dry ingredients is risky. You have to gently fold in the flour and sugar by hand in a way that the meringue doesn't realize you're doing it. *Nothing to see here.*
I didn't break any rules, but I certainly bent one, adding peanut butter powder in lieu of some of the cake flour. The peanut butter powder is heavier and coarser than the cake flour, but I successfully walked the line between an innovative idea and culinary disaster. (I love this line.) If peanut butter powder isn't available at your local grocery store, you can find it [here].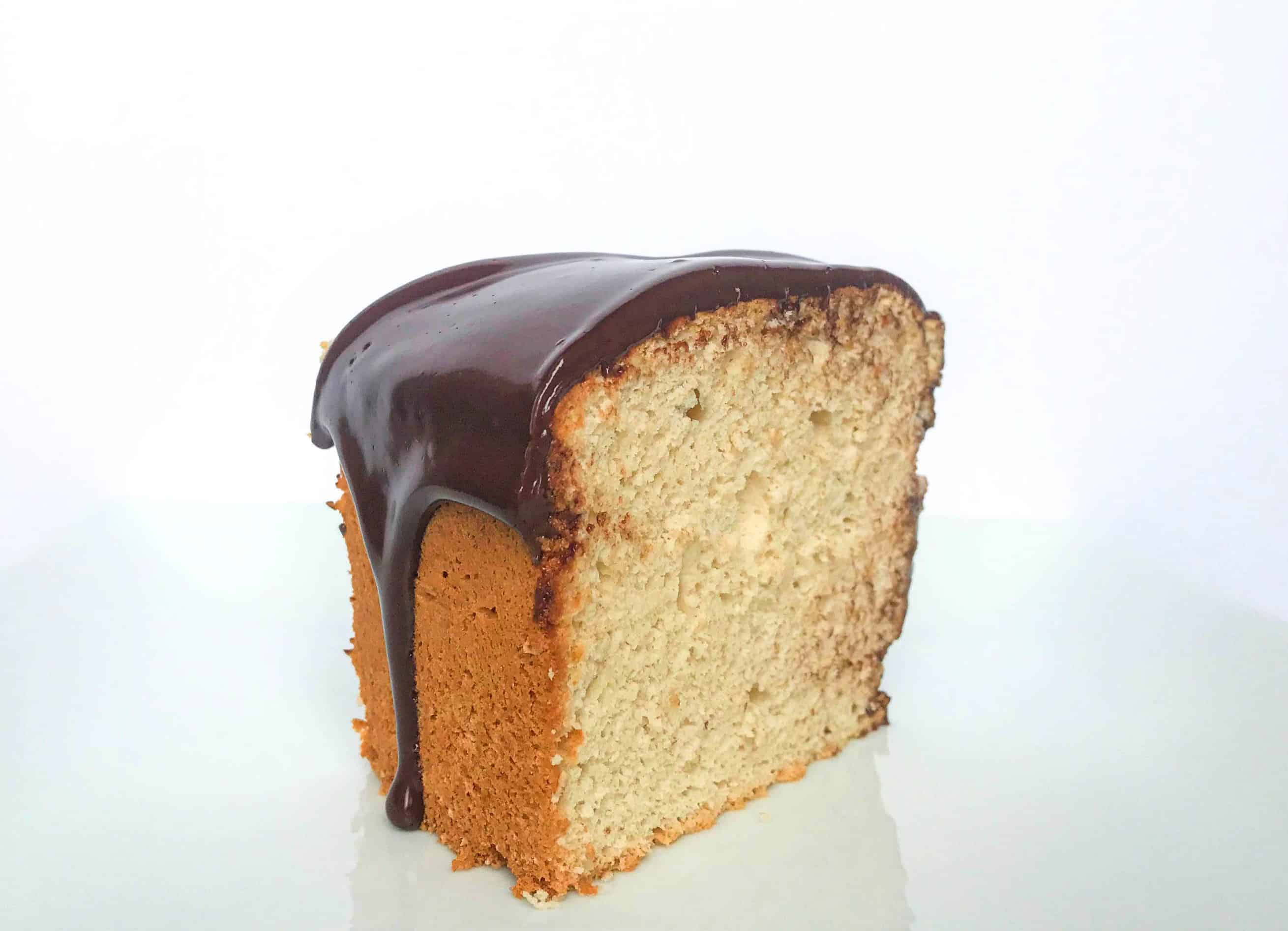 In addition to ensuring that you are gentle with the batter, the cake also needs to cool *upside down*. Seriously. If you don't, your cake will very likely collapse on itself. If you don't have an angel food cake pan (link to the one I use [here]), you can try cooling the cake upside down on a wire rack (but I've honestly never tried this).
Bonus: when turned upside down, an angel food cake pan looks like a little alien spacecraft on your kitchen counter. <3
I may have broken two rules if you count the fact that I took something called "angel" and drenched it in dark chocolate peanut butter ganache. Sacrilege! Delicious sacrilege.
I hope you're planning to get to your kitchen and make yourself this Chocolate Peanut Butter Angel Food Cake. If you're anything like me, you'll just be left with:
Other posts you may like:
Chocolate Peanut Butter Muffins
Chocolate Peanut Butter Angel Food Cake
A light, fluffy peanut butter angel food cake topped with peanut butter chocolate ganache. Love!

Ingredients
Chocolate Peanut Butter Ganache:
7

tablespoon

heavy cream

2

tablespoon

peanut butter
Instructions
Cake:
Preheat oven to 350F. Sift flour, ½ cup sugar, and peanut butter powder into a medium bowl.

Combine egg whites, salt, and cream of tartar in a mixer bowl. Using the whisk attachment, beat mixture on medium-high until firm peaks form.

Reduce mixer to medium and gradually add remaining sugar (1 ¼ cups). Beat on high speed until thick and shiny.

Add vanilla extract. Beat on high speed one more minute.

Sift ¼ of flour mixture into mixer bowl and carefully fold in, being cautious not to deflate the egg white mixture. Once fully combined, repeat with the remaining flour mixture in three more additions. Ensure that the mixture is completely combined, with no dry ingredients unmixed or white streaks.

Pour batter into an *ungreased* 10-inch tube pan, preferably an angel food cake pan with small feet (see notes). Smooth top of the batter.

Bake 30-35 minutes, or until top of cake springs back when touched. Invert pan on counter or cooling rack (see note), and allow to cool completely. Run a thin knife around the cake to remove it from the pan.
Ganache:
Place finely-chopped bittersweet chocolate in a medium heatproof bowl.

In a small saucepan, heat heavy cream and peanut butter until hot, but not boiling. You will start to see small bubbles around the edge of the pan when it's about ready.

Pour hot cream mixture over chocolate, making sure all the chocolate is covered. Let sit five minutes. Whisk until smooth. If not all chocolate is melted, you can place the ganache in the microwave on 15-second bursts until the mixture is smooth and glossy.

Pour ganache over cooled cake, allowing the ganache to drip down the sides.

Enjoy!
Notes
Note on peanut butter powder

: If you can't find it in your local grocery store, it is available [

here

].
Note on pan prep

: There is no need to grease the pan. Greasing the pan for an angel food cake will make it more difficult for the cake to rise in the pan, and your cake will likely collapse!
Note on angel food cake pan

: Angel food cakes are so light, they must be cooled upside down to prevent collapse after baking. Angel food cake pans have small feet on them that allow you to invert the pan (see [

here

]). If you do not have an angel food cake pan, invert the cake pan on a wire rack to cool.
Nutrition information is provided as a courtesy and is only an estimate.
Tried this recipe?
I'd love to hear all about it! Leave a review below, then snap a pic and tag me on Instagram!
This post contains affiliate links.