Homemade Chocolate Extract is easy, delicious, and it makes a fabulous gift! I am here to tell you that this overlooked extract can be your secret weapon in your chocolate baked goods!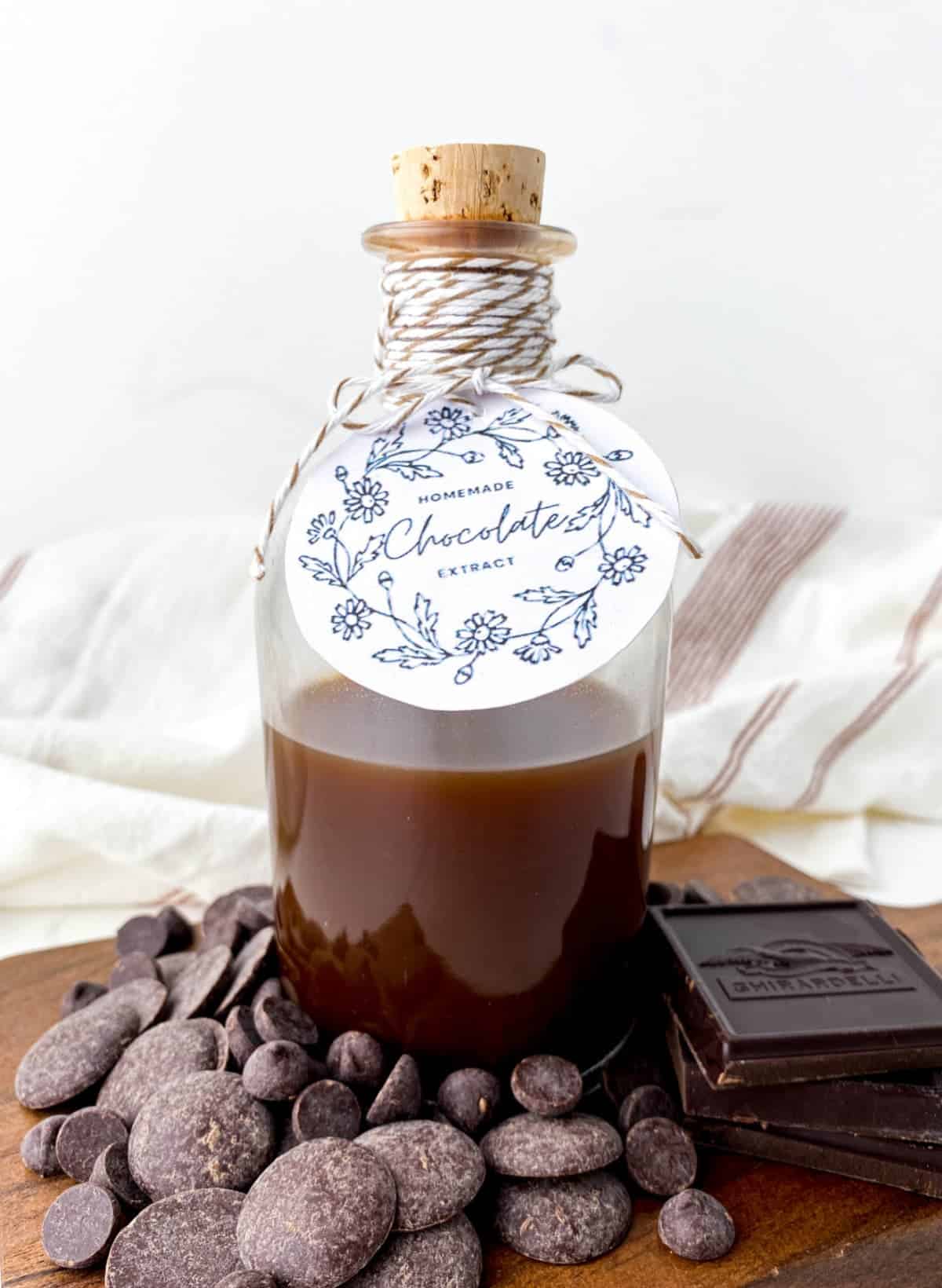 This post may contain affiliate links, and as an Amazon Associate I earn from qualifying purchases. I'll never link to anything I don't use and love! Click here for full disclosure and privacy policy.
This Homemade Chocolate Extract will be your secret ingredient in all your chocolate bakes! It gives a flavor boost to anything chocolate, so you'll always want to have it on-hand!
If you enjoy this recipe, check out the posts with my Homemade Vanilla Extract, Homemade Vanilla Sugar, and Homemade Lavender Sugar!
Jump to: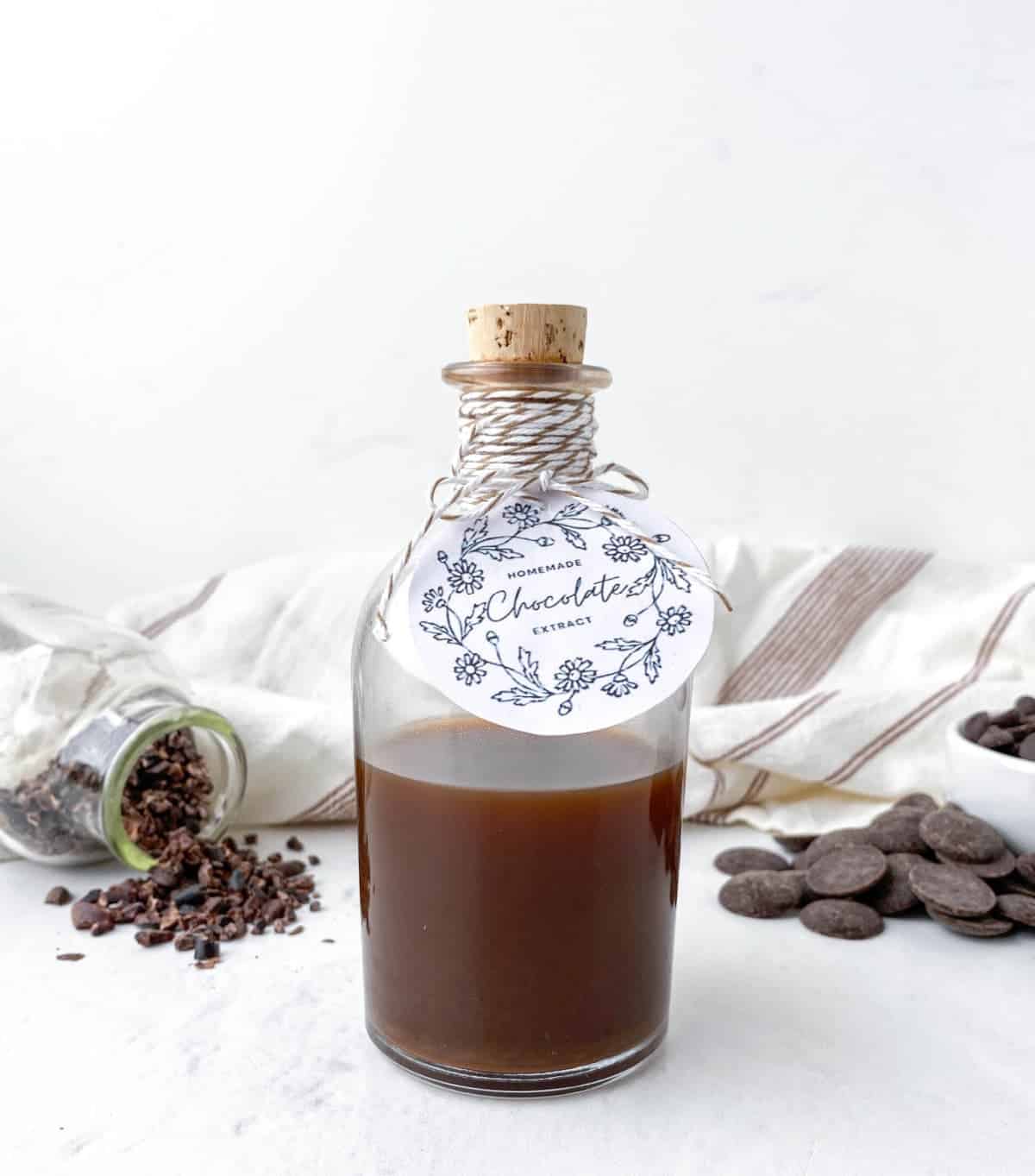 Why Use Chocolate Extract?
Chocolate extract doesn't just make your baked goods taste like chocolate. It makes them taste like all the flavors that the cacao *had* (past tense!) before being processed into cocoa powder or chocolate. The depth of flavor that you get with the addition of chocolate extract is just lovely, and for me, was eye-opening!
Why Make Homemade Chocolate Extract?
As with nearly everything homemade, it's just better than the store-bought stuff! You control the ingredients, and you control the depth of flavor through the amount of time you wait before starting to use it. The recipe calls for letting the extract sit for at least three months, but the longer you wait, the more flavorful it will be. I typically use raw cocoa nibs for my extract, but it's also delicious using toasted nibs! (Directions to toast cocoa nibs are included in the recipe!)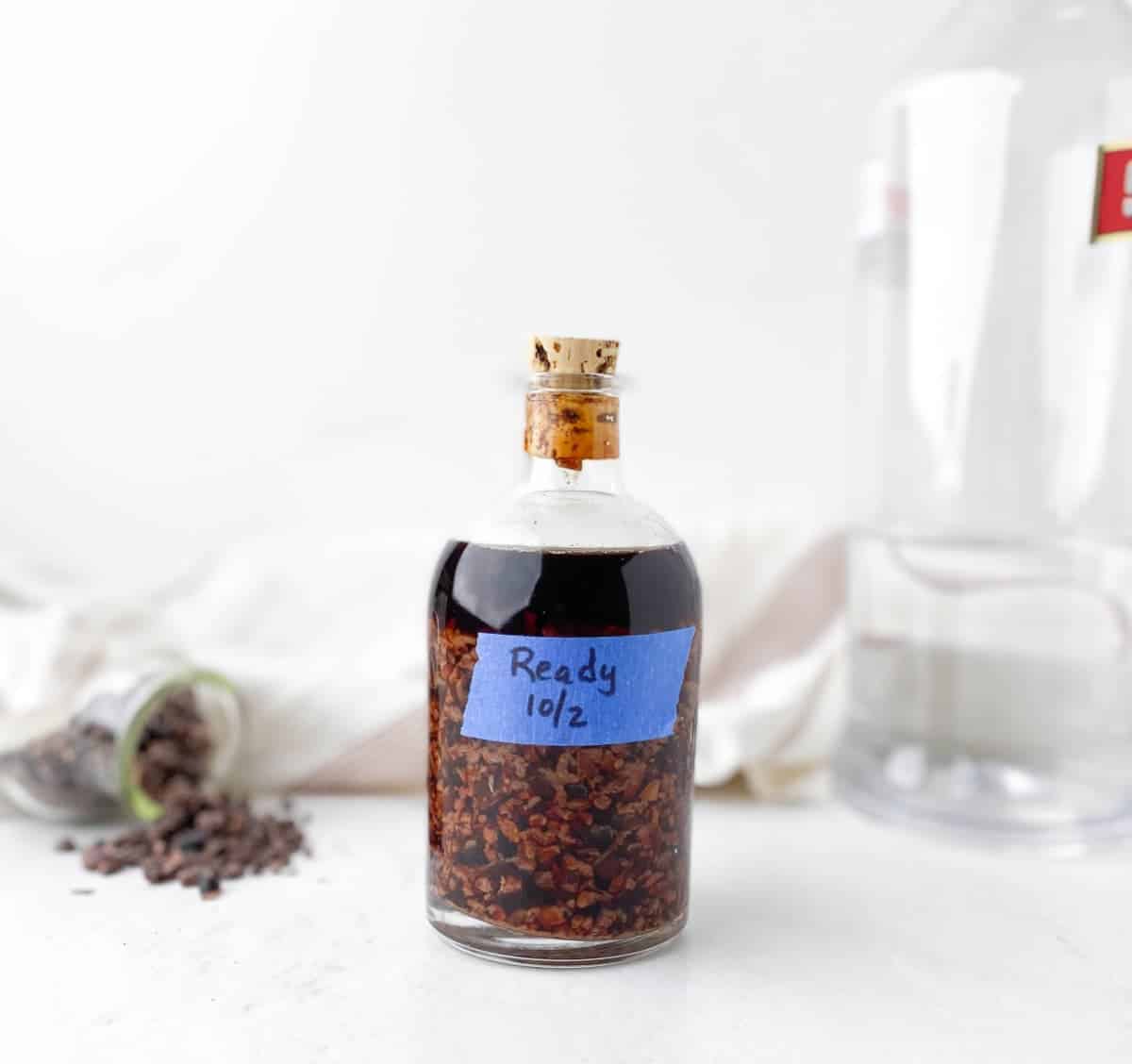 Making Chocolate Extract
You really only need three things: cacao nibs, alcohol, and a glass bottle(s)!
Cacao nibs can be tricky to find. I've never seen them consistently in a grocery store. If you can't find them, you can buy them online

here

.
For the alcohol, any quality will do--so no need to break out the expensive stuff! I used vodka, but you could use bourbon or rum if you prefer.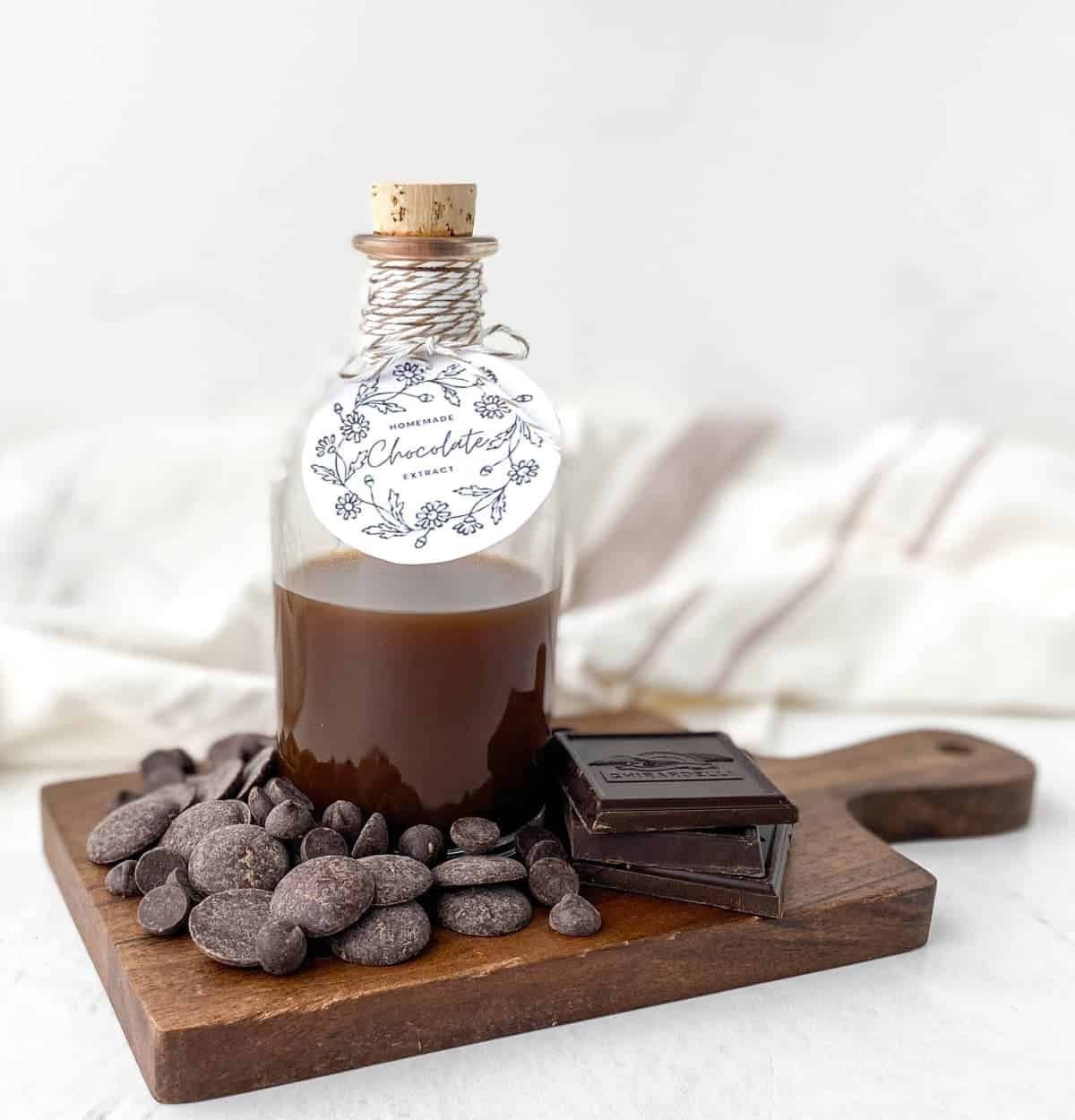 One thing to keep in mind if you're planning to gift the chocolate extract is that a large amount of your bottle's volume will be taken up by the cacao nibs. If you want the bottle to be full when you gift it (after the cacao nibs have been strained out), you'll need to make more than one bottle and then combine them later, or gift the extract in a smaller bottle than you made it in.
Sign up!
Never miss a recipe! Sign up as a Live to Sweet VIP and receive a weekly newsletter with recipes and tips--no spam ever! Sign up here
Recipes Using Chocolate Extract
Lastly--but importantly--what can you use chocolate extract in? Think amping up the chocolate flavor in chocolate cake, brownies, or mousse. Add some to your hot chocolate! Add chocolate extract instead of, or in addition to, the vanilla extract in a recipe.
Check out my "Chocolate Dessert Recipes" board on Pinterest, or click the links below to see some of my favorite chocolate recipes!
Cookies & Brownies
Oatmeal Brownies
These fudgy Oatmeal Brownies have a buttery, crisp oatmeal crust! A recipe tried-and-true from my childhood, and a regular occurrence at my house during the holidays!
Check out this recipe!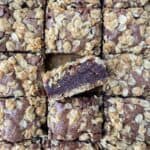 Dark Chocolate Madeleines
These Dark Chocolate Madeleines are tender and suuuuper chocolatey thanks to bittersweet chocolate and black cocoa powder! I should have called them Midnight Madeleines!
Check out this recipe!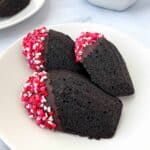 Blondie Brownies
These Blondie Brownies are two desserts in one! The browned butter blondie layer is topped with a fudgy brownie layer for the ultimate treat! I drizzled a few of mine with homemade salted caramel sauce for a truly decadent dessert, but these are so rich and delicious they don't really need it!
Check out this recipe!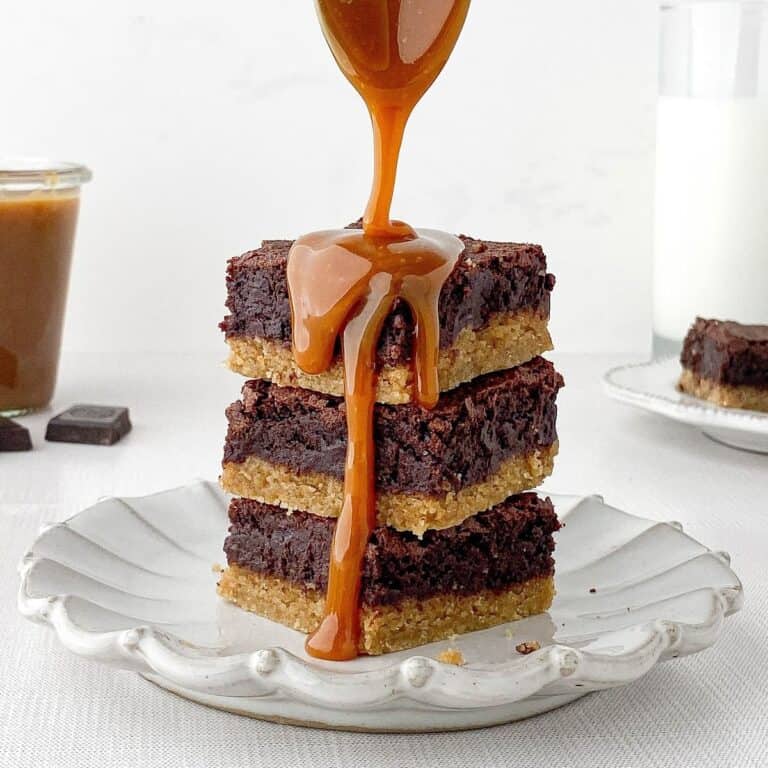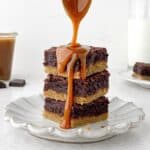 Cakes & Cupcakes
Chocolate Ganache Cake
This Chocolate Ganache Cake is one layer of soft chocolate cake drenched in dark chocolate ganache! The cake mixes up easily (no mixer required!), and the ganache takes about five minutes. So easy and delicious!
Check out this recipe!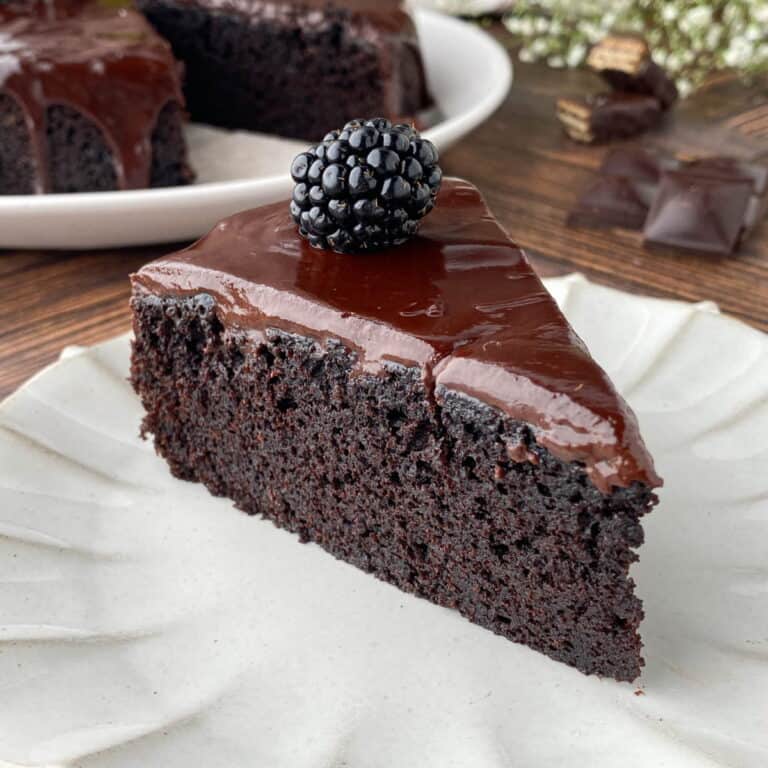 Death by Chocolate Cupcakes
Dark chocolate cupcakes filled with dark chocolate ganache, and topped with the deepest, darkest chocolate cream cheese frosting you've ever seen!
Check out this recipe!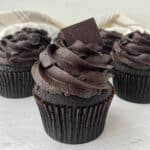 Chocolate Orange Cake
This Chocolate Orange Cake is a single layer of moist, fluffy chocolate orange cake topped with chocolate orange buttercream! You will love this cake's depth of flavor!
Check out this recipe!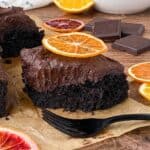 Chocolate Champagne Cake
This Chocolate Champagne Cake has super chocolatey champagne cake with champagne Italian meringue buttercream and dark chocolate ganache! For your next celebration, or anytime!
Check out this recipe!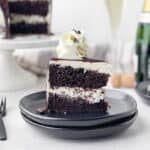 High Hat Cupcakes
These Hi-Hat Cupcakes are super moist and super chocolatey! Frosted sky-high with vanilla buttercream, then dipped in chocolate, these babies are over the top in the best way!
Check out this recipe!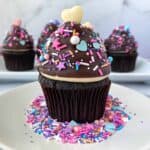 Pies & Tarts
Chocolate Cherry Pie
This Chocolate Cherry Pie has juicy, fresh cherries and chopped dark chocolate in a crisp, flaky chocolate pie crust! I think the two-tone lattice gives it a little pizazz, too! 🙂
Check out this recipe!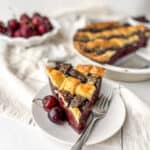 Chocolate Coconut Pie with Dalgona Coffee Topping
This Chocolate Coconut Pie has a toasted coconut pastry crust filled with dark chocolate custard, topped with dalgona coffee swirled with whipped coconut cream! It's toasted coconut meets a mochaccino and I am HERE for it!!
Check out this recipe!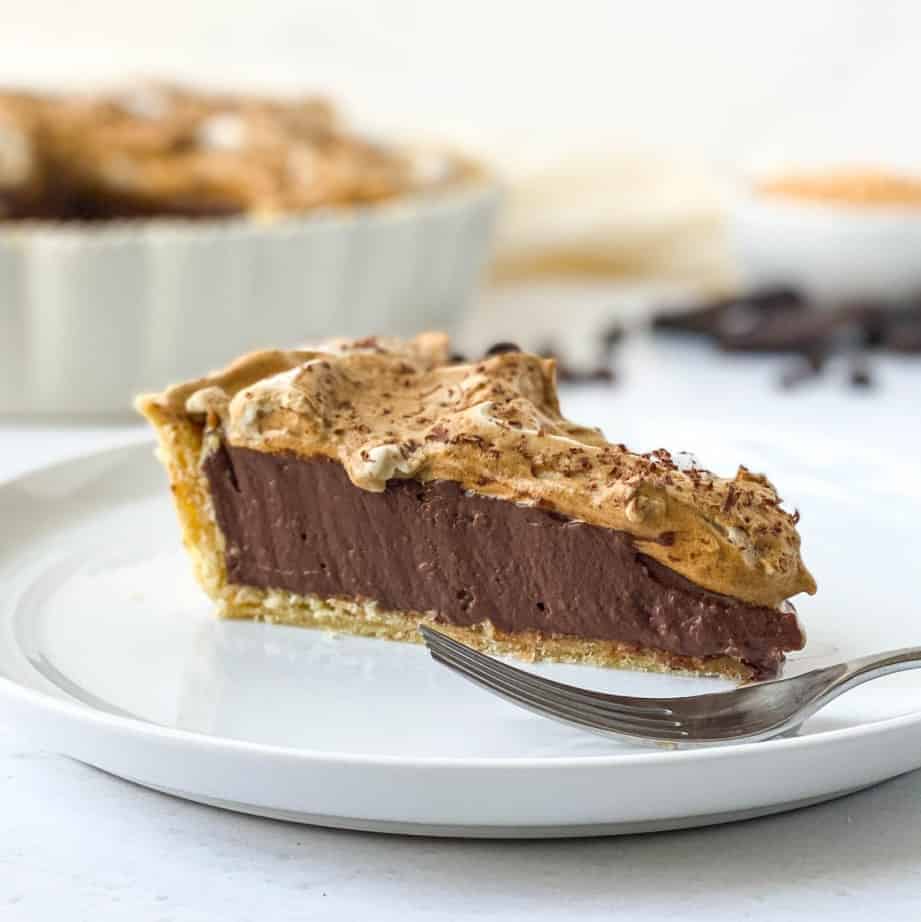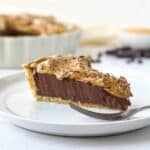 Blackberry Lavender Brownie Pie
The crust of this beauty is a fudgy brownie swirled with blackberry jam. The filling is a lavender-infused dark chocolate icebox pie, all topped with blackberry meringue. The flavors and textures are outstanding!
Check out this recipe!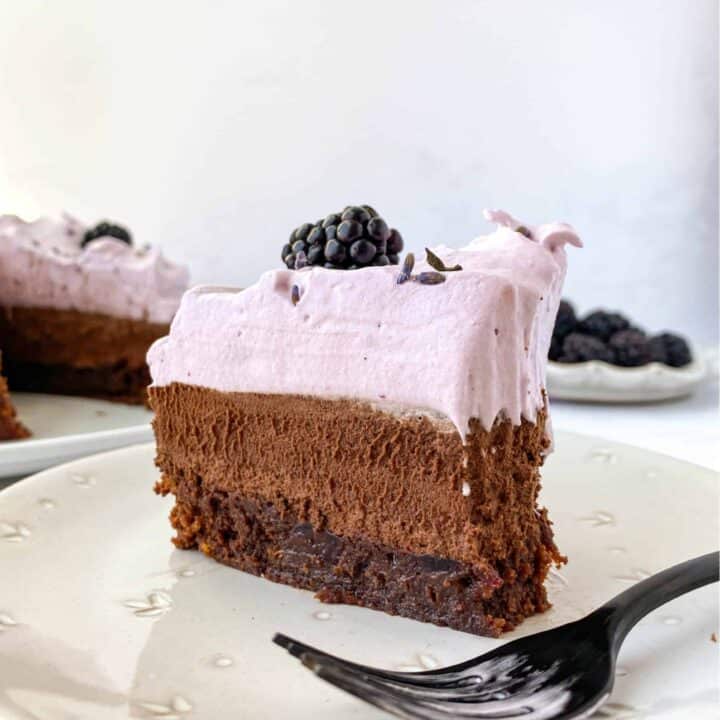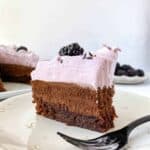 I can't wait for you to try Homemade Chocolate Extract for yourself! It really does give your chocolate bakes a little extra oomph--and who doesn't want that? Please let me know all about your chocolatey adventures! Go ahead and leave a rating/comment below, and tag me on Instagram to I can see what you've been up to! 🙂
Other Recipes You May Like
(Last updated 4/28/2023)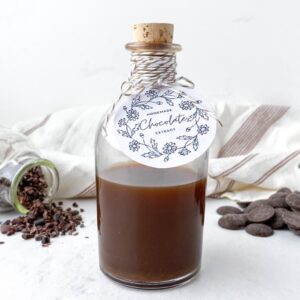 Homemade Chocolate Extract
Take your chocolate sweets to the next level with Homemade Chocolate Extract! This (sometimes overlooked) extract adds amazing depth of flavor!
Instructions
If you would rather make your extract with raw cocoa nibs, proceed to the next step.

If toasting cocoa nibs (see note), preheat oven to 350° F. Spread nibs out on a baking sheet and toast for 10-15 minutes, or until fragrant, stirring every few minutes. Allow the nibs to cool before proceeding to the next step.

Slightly crush cacao nibs, helping them to release their flavor in the alcohol. Pour crushed cacao nibs in glass bottle (see note).

Pour alcohol (vodka, bourbon, or rum) over the cacao nibs. Seal bottle and shake slightly.

Store the bottle in a dark location for at least three months. Occasionally give the bottle a shake or stir (I stir mine with a chopstick). The longer you let the mixture sit, the more flavorful the extract will be.

Once the extract has sat for at least three months, strain out the cacao nibs. The mixture may be a bit cloudy, but will smell only of alcohol and chocolate. Pour extract back into a glass bottle and store in a dark place until you make something chocolatey!

Enjoy!
Notes
Note on cacao nibs

: Cacao nibs can be tricky to find. I've never seen them in a grocery store consistently. If you can't find them, you can find them online

here

.
Note on glass bottles

: You'll want to make sure that the bottle is large enough for the nibs and the alcohol. I use 12 oz bottles like these, then transfer the finished extract to smaller, 4 oz bottles like these.
Nutrition Estimate
Serving:
1
teaspoon
Calories:
18
kcal
Carbohydrates:
0.2
g
Protein:
0.2
g
Fat:
1
g
Saturated Fat:
0.4
g
Sodium:
0.05
mg
Potassium:
0.05
mg
Fiber:
0.2
g
Sugar:
0.01
g
Nutrition information is provided as a courtesy and is only an estimate.
Tried this recipe?
I'd love to hear all about it! Leave a review below, then snap a pic and tag me on Instagram!